"Triumphs" for Benedict XVI
On 17 July Benedict was given a reproduction of a painting by Málaga artist Raúl Fernández Berzosa which was painted for the Oratory of the Brotherhood of Sorrows in Malaga. The picture is of the Triumph of the Church over sin.
The gift was given to Benedict by Father Salvador Aguilera, who works at the Congregation for Divine Worship and the Discipline of the Sacraments in the Vatican. The Pope Emeritus listened intently as the symbolism contained in the painting was explained expressed his admiration for the photographs of the roof of the Oratory which is scheduled to be opened in late September.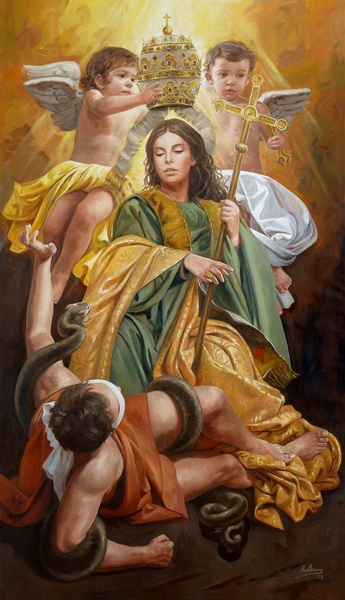 Benedict XVI was interested in the work of Berzosa, especially interested in the details of picture which included the fisherman's ring and ferrule or staff of the German Pope.