'For us, he will always be Professor Ratzinger'
Interview with Fr. Fessio
On August 27-30, the annual seminar-reunion of the former doctoral students of Prof. Joseph Ratzinger, a group of theologians better known as the Ratzinger Schuelerkreis, will be held at the Apostolic Palace in Castel Gandolfo.
For more than 30 years, this annual meeting has dealt with specific topics that Joseph Ratzinger/Benedict XVI has wanted to examine more closely.
Fr. Joseph Fessio, SJ, who has been at all the seminars, spoke to us about this year's seminar on the theme of mission in the Church, specifically, "its justification' and "mission in relation to men of different cultures and religions".
It is a topic that has previously turned up with some controversy in the Ratzinger Pontificate. In December 2007, the Congregation for the Doctrine of the Faith issued a Note on some 'doctrinal aspects of evangelization'.
The note condemned relativism and undifferentiated pluralism in which all positions are seen to be equal to each other, and stated unequivocally the justification for the Church's evangelizing mission towards non-Catholics.
According to the Note, which explicitly set out to clarify statements by the Second Vatican Council, the Church's announcement of Christ was not an unwarranted interference in the lives of non-Catholics but simply a proclamation of Christian truth.
As has become customary at these annual Schuelerkreis seminars, ex-Prof. Ratzinger himself will deliver the concluding address, generally summing up what has been discussed in the seminar.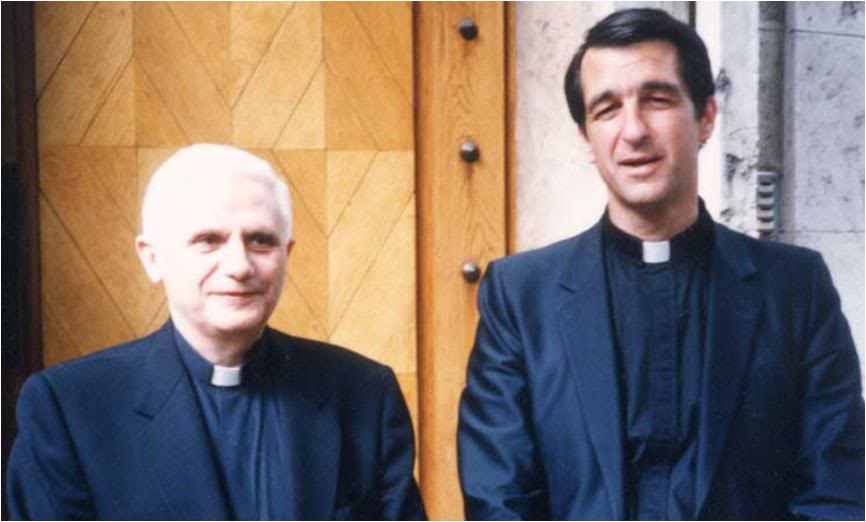 Equally customary, the seminar has invited two resource persons to deliver the keynote lectures - the Protestant theologian Peter Beyerhaus from the University of Tuebingen; and an ex-Lutheran, now-Catholic theologian, Horst Buerkle, emeritus professor of the Ludwig-Maximilian University of Munich.
It is not unusual for the seminar to invite non-Catholic resource speakers. In this case, the ecumenical implications of Catholic mission are integral to the discussion - specifically, how the Catholic Church carries out its mission with respect to other Christian denominations.
A regular presence at these seminars is Cardinal Christoph Schoenborn, Archbishop of Vienna, who took advanced courses in theology under Prof. Ratzinger in Regensburg in 1972, but he subsequently obtained his doctorate in theology from the University of Paris. He is president of the Joseph Ratzinger-Benedict XVI Foundation incorporated last year by the Schuelerkreis in order to promote the thought and theology of Joseph Ratzinger/Benedict XVI institutionally.
- Fr. Fessio, tell us about this year's seminar theme.
This year, it is about mission, The two principal speakers are Prof. Peter Beyerhaus and Prof. Heinz Buerkle.
Prof. Beyerhaus will speak on "Missione ad Gentes - Its justification and its form today", while Prof. Buerkle will speak on "The Church andts mission in dialog with men and with different religions and cultures".
Usually, these lectures are presented separately, with everyone present, including the Holy Father. After each presentation, there are questions, comments, discussions, in which the Holy Father also takes part, and in the end, he gives a summation of the session.
- Who decides the seminar subject?
We've followed the same process every year. Before the year's meeting ends, the members suggest and discuss possible subjects for the following year. Then these are presented, in order of preference, to the Holy Father who chooses his preference. Then, the officials of the Schuelerkreis decide, along with the Holy Father, whom to invite as speakers.
- How did these encounters come about initially?
They started after Prof. Ratzinger was named Archbishop of Munich-Freising in 1977. He let us know that he was receptive to such encounters, and since then, he always found time for an annual reunion.
After he became Pope, we all thought that it was the end of these annual meetings, but he himself proposed that they should continue.
- In between sessions, what do you do? Do you lunch with the Pope? Do you have a chance to chat with him?
We have coffee and cake, and we chat among ourselves and with the Holy Father. Usually, we have at least one meal with him - lunch, and sometimes, breakfast.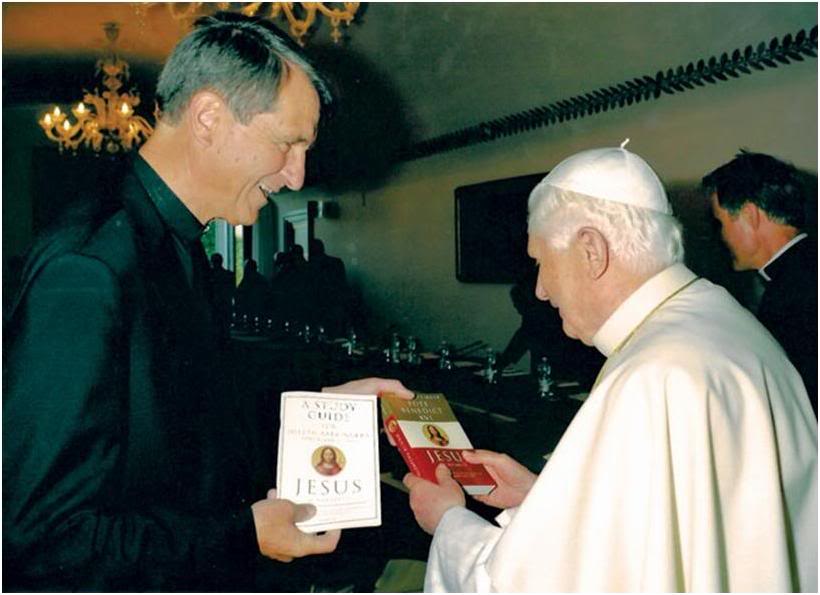 - What do you remember of Prof. Ratzinger before he became Pope? Do you have any particular memories?
I have many memories of Joseph Ratzinger, but none that would shed new light on him nor on how the world knows him now.
As everyone can see. he is a person who is very transparent, very clear. One of the great joys that we his students felt when he was elected Pope was to know that finally, the world would know him as he is and as we know him, the true Joseph Ratzinger, not at all the Panzerkardinal, but a gracious, kind, and attentive scholar, priest and friend.
- What has remained of your work from previous years? Have you continued working on the subjects you have discussed?
In the past two years, we have started to publish the lectures and discussions during the seminars. But as far as I know, there has been no formal follow-through of seminar topics.
For Ignatius Press, of which I am the publisher, there have been two concrete results. After the lecture by Fr. Samir Khalil Samir on Islam at the 2005 seminar, we decided to publish his book 101 questions on Islam. We also published Chance or Purpose?, a book written by Cardinal Schoenborn after the first seminar on 'creation and evolution'. [And afterwards, the English edition of 'Creation and Evolution', the proceedings of the 2007 seminar.]