A portrait of Benedict in stained glass
The Kurier - Painter and sculptor Hans Weyringer, from Neumarkt am Wallersee, has been given the great honour of creating a work for a Renaissance church in Rome and along with the commission went a 50 minute meeting with Benedict.
The 65-year-old artist has made a stained glass window with a portrait of Pope Benedict XVI for the church of Santa Maria dell 'Anima in Rome.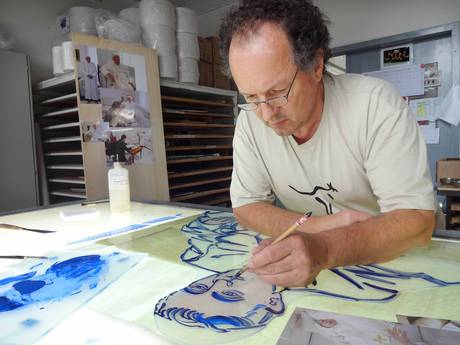 In the sacristy there are busts of all six Popes from German-speaking countries. The last was Hadrian VI in 1523. There was no space for a bust of Benedict so Franz Xaver Brandmayr, the rector of the Anima, commissioned Weyringer as a member of the Brotherhood to come up with an idea. He suggested a stained glass window, which releases colourful light into the church as a worthy alternative, but Weyringer accepted the commission only on condition that he could draw Benedict and meet him personally. It was months before a letter arrived, in November 2013, granting him a meeting.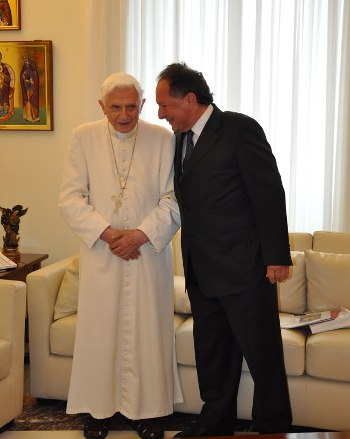 "He exudes an incredible kindness and cleverness. There was chemistry immediately" says Weyringer. The meeting was an "event of the century" for him. He spent 50 minutes with a sketchpad and pencil in front of the former pope. Chatting about art, Benedict even admitted to being fairly modern, recalls Weyringer. "He said that the Church is still stuck too much in the Baroque and that he very much welcomed modern art."
Benedict did not attend the official unveiling of the glass window in October. A picture of the work was sent to him instead. Benedict was "thrilled".
It will not be the artist's last work in the Church of the Anima. He is currently working on two more stained glass windows and a seven-foot mural for the entrance of the church. It is a scene from the Apocalypse. Abstract images of man and mythological themes are the hallmarks of the Neumarkt artist. Among other things he designed a colourful chapel of the Good Shepherd in 1988 in Thalgau-Egg.
Notes: